QCUSD Governing Board Approves Employee Raises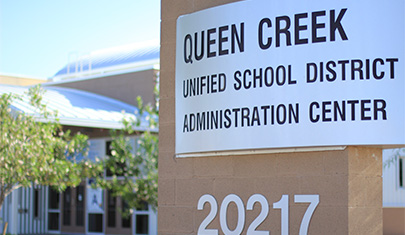 Teachers and support staff in the Queen Creek Unified School District (QCUSD) are getting a pay raise after the QCUSD Governing Board approved raises for all employees on Tuesday, August 9. The bump comes after a newly passed state budget that increases funding for k–12 education.
Governing Board President Ken Brague says teacher salaries have been one of his top priorities during his 13 years serving on the board.
"Teachers are the backbone of our district. We value their dedication and commitment to our students, and we want to make sure our budget reflects that," said Brague. "Our support staff is also essential for student success, and this package will ensure we remain in line with industry standards."
Board member Samantha Davis was part of the unanimous decision. She says she's thankful to serve on a board that puts students and families first.
"Every decision we make revolves around student outcomes and the needs of our families," she said. "Supporting our teachers and staff supports our students. We listen to our community. We want people to know we hear you, and we make decisions with your voices in mind."
The new raise package includes a five percent raise for returning teachers and $1,000 market adjustment for all certified teachers, plus $500 for all employees who have been with the district for five or more consecutive years. Hourly employees will receive $2 more per hour plus an equity adjustment based on their current range. Administration will receive a five percent raise and $1,000 equity adjustment. This is in addition to a two percent one-time stipend increase for all returning employees approved earlier this year.
"Although there is still work to be done, we're taking a balanced approach with a package that honors staff members who have been committed to the district and increases equity to help our employees who are furthest from the market median," said QCUSD Superintendent Dr. Perry Berry. "It follows guidance from our market analysis team JB Rewards and helps attract and retain talent by increasing base salary."
This isn't the first time the QCUSD Governing Board has prioritized teacher pay in their overall budget. In fact, it's been a pattern. They've approved teacher pay increases each year since 2016, totaling more than 35 percent.
While the raises are good news for district employees, they are still in need of capital funding which is used for the construction of new schools and expansions. As one of the fastest-growing communities in the country, their enrollment is exceeding predicted increases and more resources will be necessary to address the influx of students. Voters will decide on a bond for new schools and expansions this November.